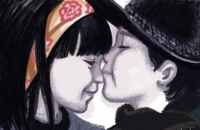 Offline



Joined: 14 Dec 2008
Posts: 588


Localisation: Chine



Point(s): 625
Moyenne de points: 1.06

Posted: Sun 22 Mar - 13:46 (2009)

 

   Post subject: [EN-FR] What is the memory? Qu'est-ce que la mémoire?
la mémoire est le trésor de chaque individu, soit heureuse, soit douloureuse, ça nous apprend des choses dans la vie et ça nous construit un empire spécial spirituel.

la mémoire est qch que nous rappelons de temps en temps et que nous partageons avec nos amis.

se souvenir des belles choses...

The memory is the treasure of every individual, maybe happy, maybe not, we learn things from the memory in the life and that builds us a spiritual special empire.

The memory is somethint that we call back from time to time and that we share with our friends.

Remember beautiful things...