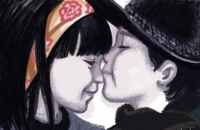 Offline



Joined: 14 Dec 2008
Posts: 588


Localisation: Chine



Point(s): 625
Moyenne de points: 1.06

Posted: Tue 17 Feb - 10:07 (2009)

 

   Post subject: [EN-FR-CH] Commercial link/ Lien pour acheter/ 网上购物
http://www.taobao.com/

I buy often the clothes with this link.
If you wish, maybe you can find the books or the CDs that you want. I hope that this link can help you.



J'achète souvent des habits sur ce site.
Si vous voulez, vous pouvez trouvez des livres ou bien des CDs que vous desirez. J'espere que ca vous aide.



淘宝网。。。好多人都去。。。不过不要看到什么都狂长草哦。。。。